Intranet forms a very valuable part of the internal communication strategy for an organization. When properly done, they help organizations engage better with their employees.
Other benefits include –
better collaboration
support in strategic alignment
sharing of resources
acting as an information hub and
simplifying the employee onboarding process 
In a couple of our other blog posts, we also talk about the various factors to consider while designing an intranet website – 6 content factors and 6 usability factors.
Today, in this post, we get into the numbers game. In a Workvivo survey on intranet usage and how employees perceive it, the following results were obtained.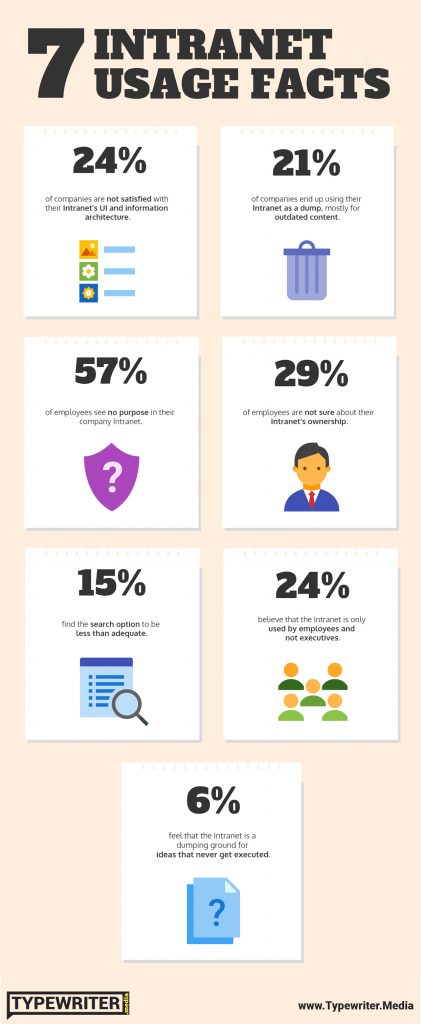 In short, what the survey says is that:
24% of companies are not satisfied with their Intranet's UI and information architecture

.

21% of companies end up using their Intranet as a dump,

mostly

for outdated content.

57% of employees see no purpose in their company Intranet.

29% of employees are not sure about their Intranet's ownership.

15% find the search option to be less than adequate.

24% believe that the Intranet is only used by employees and not executives.

6% feel that the Intranet is a dumping ground for ideas that never get executed.
Definitely not good numbers. But this does provide an overview of what are the pain points for companies and employees on intranet usage.
We have shared a lot of pointers about bettering your intranet experience, on our blog. To start off, if you are someone in your organization responsible for managing the intranet and/or internal communications, you may find our list of top 5 books for internal communication managers useful.
Ciao.
---
Want to join our small but awesome community? Just drop in your email below and we'll buzz you in.

Photo by Joel Filipe on Unsplash