The COVID-19 pandemic has turned life, and work, upside down. There's definitely no one arguing about that.
The easiest part was asking people to go home. The slightly difficult part came while trying to understand how businesses could have their staff working from home.
The most difficult part is yet to come- bringing people back to their workplace and letting them, and the organization, adapt to the changes.
As the restrictions start getting lifted slowly and steadily, getting people back to their work-desks isn't going to be an easy task. They will require new motivation, new guidelines, new practices, and new expectations.
Adapting to change is difficult. What is more difficult is conveying the change.
From personal experience, and from what I have noticed in and around, here are a few suggestions I would like to put forth on how to communicate effectively with your staff, as they start getting back to work.
1. Communicate the What
There are definitely going to be a lot of changes happening. The leave policy might be changed, a pandemic clause might be included in all contracts, sanitizers might become compulsory on all work desks, the office seating plan might be changed forever and whatnot.
Make sure you leave nothing open to multiple interpretations and that everything is communicated to your staff in clear terms. In writing.
Leave nothing to the reliance of common sense – "Oh, the staff will surely figure that out". True leadership is shown in communicating well, and the right way.
Even if it might not seem necessary, it's always well-meaning and safe to elaborate on all the changes.
2. Communicate the Why
Motivating people to change, requires you to tell them a compelling 'why'.
Unless you can bring them in on the story, they wouldn't do it out of respect or understanding. They would probably just do it out of "rules & regulations".
But remember, communicate your 'why' based on the mission of your overall business. It should be a reflection of your company culture and the value you create for your customers.
3. Elaborate the Changes: Short, Medium and Long
While communicating the 'whats' and 'whys', make sure you sectionize these changes into short-term (1-3 months), medium-term (4-12 months), and long-term (over the next few years).
This will not only help you, as an organization, chart out the changes better, but will also help your staff understand the expectations from them over a period of time.
For example, if someone feels that the long term change is not good for their own career, communicating that will help the individual make their own decision. This eventually is always better for both parties involved.
4. Make Your Staff Part of the Narrative
Rather than making the communication top-down, include your staff in the narrative and decision making. Share ownership with them.
This will not only help them be part of the process but would help you, as an organization, take better long term decisions.
These staffs are the ones who would be on the receiving end of the majority of the changes being made, and it only makes sense to involve them.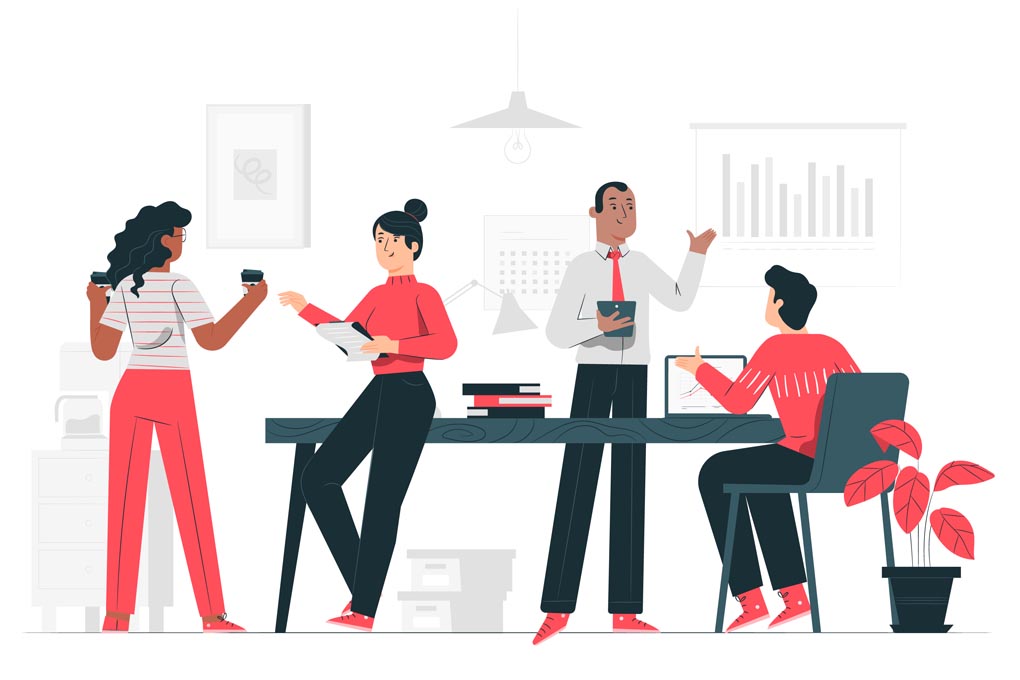 5. Empathize
Once all the changes have been communicated, give your staff time to adapt.
Give them options, where possible. But make sure you give them the time to adapt to these changes. Personally, the pandemic has taken a toll on everyone. The more empathy you're able to show to your employees, the more they'll respect you.
Remember, people don't resist change. They resist being asked to change.
6. Listen and Adapt
As already mentioned before, do not make the whole communication top-down model.
Listen to the feedback from your employees on how the new changes are affecting them. Make 'changes to the changes' when and if needed, and then listen again.
The more you listen and the more you adapt accordingly, the more at ease your staff would feel. End of the day, this will always prove beneficial to your company culture.
7. Don't Treat Them Like A Shelf Product
When the whole COVID-19 situation began and people were starting to be asked to work from home, one communication I used to regularly see from organizations was – "Non-essential staffs can work from home, but until further notice, all essential staffs are expected to be at work".
Various organizations released similar versions of this to their teams. And in my opinion, that was a horrible thing to do.
Your employees are not a shelf product to be defined as essential or non-essential. Yes, there are various people working in various capacities, with varying degrees of influence for your business. But that does not mean they be defined as essential or non-essential.
It is discrimination, at the very least.
Instead of using such terms, maybe use different terminology. 
Customer-facing roles are expected to resume work from the office.
Staff who are unable to perform at least 80% of their job role from home, are requested to start working from the client site from Monday.
Employees who can continue to perform 100% of their work responsibilities from home, can continue to do so. The offices will be open and all the other employees are expected to start back at work on the 31st of May.
You get the gist. Right?
Let me know if there are any other important pointers we have missed and we'll be happy to include them.
---
Want to join our small but awesome community? Just drop in your email below and we'll buzz you in.

Business vector created by stories - www.freepik.com

Photo by Chris Lawton on Unsplash